In the mountains of Japan drifting was invented, allegedly. There is a car culture like no other in the world, they have cars running over 1000bhp all over the place. And I am being paid to go there.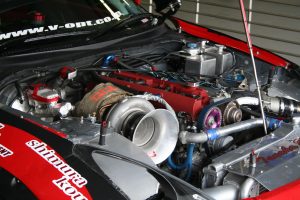 This all started because a TV production company in Manchester needed two mechanics who were media savy and up for a challenge. A quick call to an old mate Ranen, who I've worked with since we both started as graduate engineers in 1990 at Ford's research plant in Essex, and we had a screen test sorted.
A week later the film crew arrived at my house and described a show where two engineers would do amazing conversions on supercars, sounded ace, then they asked if myself and Ranen could talk about a supercar for the screen test and if possible could we please find a suitable car….
Luckily the crew knew nothing about cars and my better half Diana has a glorious BMW840 in the drive, looks like a supercar to the TV crew so off we go, talking utter bollox and pointing at bits of car. We got the job and would find ourselves filming bits of the series all over the world.
Fast forward a few months and I'm on a plane heading for Tokyo, usually long haul flights are plagued by screaming children and loud mouthed tourists, but the characteristically reserved and polite Japanese on this flight were quite and respectful, a great introduction to the culture we were about to enter. The plane landed in the rain, Japan is a series of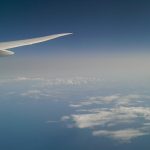 island much like the UK and gets even more rain than we do, but as this was July the rain was warm. A bit too warm, leaving the air conditioned coolness of the terminal and walking into the 40C 100% humidity was like walking into a sauna, but a sauna with taxis in it. Taxis in Japan have automatic doors, electric motors powering the hinge mechanism, I like that.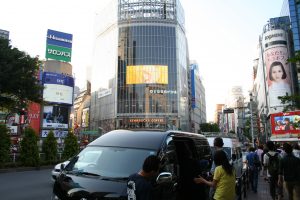 Our first job was to film us arriving at the airport, we had planned to get changed at the airport into the clothes we would wear for the whole episode but the producer suddenly changed his mind and we had to film immediately with myself and Ranen wearing the comfy slob clothes we had worn for the long flight. At this point a Japanese film crew, nothing to do with us, suddenly rocked up from nowhere and started filming us. Apparently they have a series over there where they find random people at the airport and follow them during there trip to Japan, it's quite popular but didn't really fit into our plan, after a bizarre ten minuets of us filing them filing us filming me and Ranen, it all hit an overload of daft we and we invited them to bugger off. They bowed, and buggered off.
The crew had a minibus for the trip, and filming continued with me and Ranen in the Taxi going round the streets of Tokyo with the camera dude Steve hanging out the back of the minibus filming us, looked safe to me but worried the heck out of the taxi driver. His Toyota Crown taxi was amazingly clean, had vinyl seats and smelled of jelly beans.
With that in the 'can', what ever that means, we all bundled into the minibus for our trip to a rather special garage. There is a legendary custom car builder called Wataru Kato who runs a company called Liberty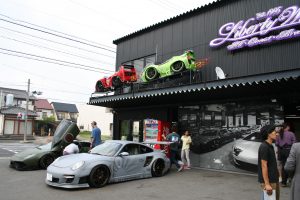 Walk. We met him at his workshop where we helped put wide suspension, air springs and bolt on arch extensions on a Murcielago that was going to compete in the national Drift Championship, yes a drift Lamborghini. I was quite impressed with the body kit, unlike may cheap hairy fibre glass kits I've seen before this was a well manufactured injection moulded plastic part that fitted the contours of the Lambo perfectly, in fact everything in the workshop was perfect, except the vending machine that only let me have a small can of drink that tasted like kelp. As well as the custom builds they are very active in the drift world, but more of that later. The mechanics there speak no English but we managed to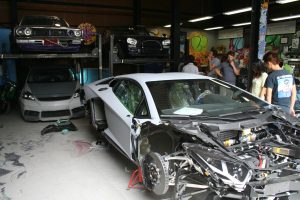 communicate in the universal language of Engineer, fantastic guys who work really hard to make the cars something else. As well as high end modern stuff including Ferraris, Porches and even more Lambos, he also had a few Japanese classics like an original Skyline from the '70s. The workshop was a wonderland, a very hot and humid wonderland.
Having filmed us slowing progress on the Lambo we had a short trip across town to the showrooms where every car was utterly slammed on the deck with air suspension fully down, more Lambos, Ferraris, Porches and a lone Dodge Challenger. My attention was taken by a matt green Lamborghini painted to look like a Japanese Zero fighter plane from the second world war, Kato-san explains to me with huge pride that the Japanese had made the "best fighter of WWII, feared by the Americans"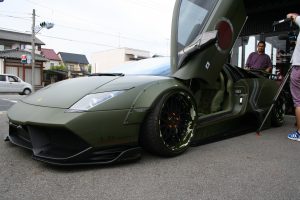 and he wanted to honour the memory of all that served their country. Interestingly there are a lot of old style Japanese flags about the place, clearly a man with great national pride. I had some interesting conversations with him.
As the day drew to a close it was time to say our goodbyes to Liberty Walk and board the minibus crammed with film kit, suitcases and crew, and head off to the hotel. It's always interesting to see the little things that are different in other countries, a lot about Japan is familiar such as driving on the correct side of the road and queueing, but some things are very different. In the cities where a road has run out of capacity they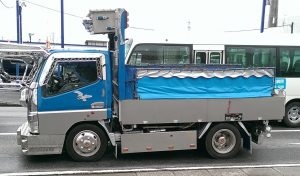 sometimes simply build a second road above it, double decker dual carriage ways with fairly steep slip roads. Some of the commercial trucks and lorries are customised with oversized sun visors, aerials, door mirrors and chrome bumpers. In the UK if a lorry has a nice airbrush painting and some extra lights we think its a bit special, over there it would be laughably tame.
After booking into the hotel many miles from Tokyo I discover something else odd; the toilets. They are very clean, clean is a big thing in Japan, and to keep 'things' clean the toilets have a dashboard with controls for water jets that wash your arse. You can set the pressure and temperature of the jet, you can control the precise position with a joystick on the better models, you can control duration of flush, apply scent and control a warm air blast to dry your privates. Of course the instructions are all in Japanese and pressing the buttons at random can be quite a thrill.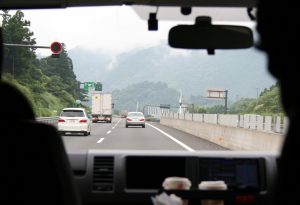 Another early start and we are soon on the road, driving past huge swathes of Japanese knot weed which is taking over, wrapping rapidly round buildings, motorway supports, bridges and wires. Teams of weed fighters are out cutting it back with sophisticated high tech machinery and hard hats in case a heavy leaf falls on them.
Our next stop is Fuji Speedway, a legendary race track where James Hunt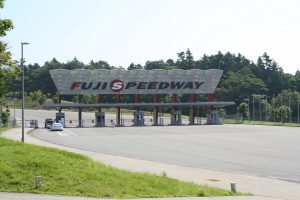 won the F1 drivers championship in '76 (one of the truly great races). It's in the hills and the lush vegetation and tall trees give it a magical feel, like something from the Lord of the Rings. From the paddock area I can see mount Fuji in the distance, a giant traditional cone shaped extinct volcano towering above all around, despite the summer heat the top still has snow. Apparently mount Fuji also has it's own WiFi, social media accounts and there is a café at the top. It takes a full day or two to climb, so I didn't.
We had more important things to do at Fuji Speedway, we were filming the drift championships. Now, drifting is a serious business in Japan and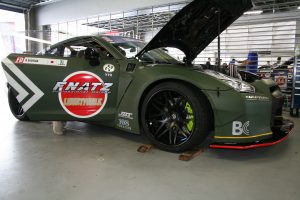 there are two drift championships in town, mention the wrong one and the pub goes quiet. We are here to see Robbie racing the Liberty Walk 370Z, it's running just over 1000bhp with two massive turbos and a locked diff, all the excess weight has been stripped out and the quick release back bumper shows lots of battle scars. Judging for the event is done in just one part of the circuit where there is a natural amphitheatre in the steep hills, cars enter from a straight at over 100mph into a right hander, they pull the hydraulic handbrake to make the back step out then power slide the car through the corner, using the front brakes to tighten the turn and control the drift too. From the right hander its into a long left where the car has to slide as sideways as possible, then the final right and out of the judging zone. To make it more complicated there are posts at the edges of the corners that the cars have to get as close to as possible without destroying them,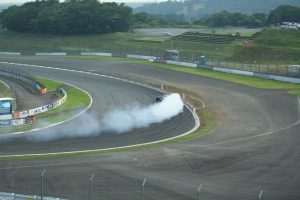 known as clip points, it takes real skill to get close to each set in the right-left-right circuit at high speed sideways. Cars are marked on how sideways they get, speed, control and style. To get the speed they need grip, to get the slide they need power, it's a lot more technical than it looks and talking to the guys who built it and set it up was utterly fascinating.
It was about this time that Ranen pointed out that mount Fuji had disappeared. Looking across the paddock in the direction of the giant mountain revealed that he was indeed correct, no mount Fuji. The humidity resulted in ever thickening haze that left the horizon a uniform white despite it being a very hot sunny day. Racing these cars in these condition must put a strain on the cooling systems, and the poor drivers in their three layer fireproof Nomex romper suits and insulated crash helmets. We were overheating just watching them, I now know why traditional Japanese artwork so often features someone holding a fan.
All too soon the track action was over and it was time to head to the hills of Fukushima prefecture, you know the place where the nuclear power station exploded, but we weren't looking for mutated toads, no, we were looking for a school.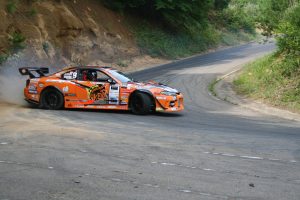 This particular school teaches drifting, in a section of the Ebisu circuit called Drift Land which makes it sound like a theme park, which is exactly what it turned out to be. Ebisu has no less than 7 full race circuits plus two skid pans and a zoo, with elephants and giraffes and the such, it's a bit surreal.
We met up with Naoto Suenaga, an utterly mad yet highly skilled rift racer with Team Orange, who are notable due to the whole team having hair dyed orange. But not only is he a successful racer but he builds his own cars, there is a decent sized workshop right next to one of the circuits with a few cars in various states of build. It's not like Silverstone, its more rural, there are scrap cars lying about the yard, bit of blown engine and trans in make shift skips, in short it's perfect. The yard just up from the workshop must have had over a hundred scrap cars, some stripped of useful bits and some tatty but complete, there were piles of R32 and 33 Skylines, Nissan Sylvias, assorted Z cars, it was extraordinary.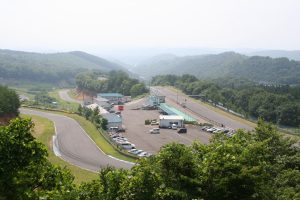 It turns out that in Japan it is almost impossible to keep a car older than about 5 years, their MOT equivalent is quite reasonable but very few people work on their own cars and mechanics charge a high rate, so the test could cost nearly £1000, the first test is after 3 years then every 2 after that so cheaper cars become uneconomical to keep on the road. This results in lots of good cars being exported after 5 or 7 years, grey imports, and some very impressive piles of donor cars in the mountains such as the one I'm now looking at. Looking at and dribbling a little bit.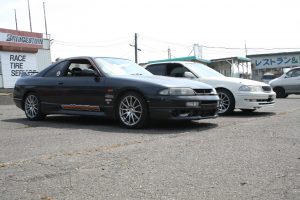 But I'm not here to dribble, no I'm here with Ranen to have lessons in drifting. We are presented with a pair of cosmetically challenged cars, closer inspection shows that despite this they are mechanically excellent, Ranen takes the Sylvia and I hop into the Skyline R32 GTS, it's almost standard, stripped mildly, push button start, cut off switch and fly off handbrake the only obvious mods. Firing it up suggests non standard intake and exhaust may have been thrown into the mix. We each get a camera person in the passenger seat to film some initial footage, I look at Ranen and he looks at me, both knowing what the other is thinking, the film crew haven't done much car stuff before so it seems rude not to show them how great the cars are. Both cars pull away in clouds of tyre smoke and significant sideways progress, the R32 slides in a superbly controllable manner, allowing an easy 1st to 2nd gear shift whilst still sliding. There seems to be a funny screaming noise from the left side, then I realise its the camera person. Job done.
For filming purposes we muck about on one of the skid pans, Suenaga-san jumps in and we begin a series of increasingly tricky tasks, starting with drifting round a traffic cone which inevitably ends with the cone being flattened several times. One thing is becoming clear, whilst it's easy to pull away wheel spinning and going sideways, controlling this to keep the front of the car just a foot from a cone is a whole lot more difficult and these guys who drift for a living are genuinely skilled. I found it genuinely enlightening, and whilst I'm now very slightly better at drifting than I was, I now realize how utterly rubbish I am. As if to prove this my instructor asks me to stop so he can get out, apparently I'm the first student ever to make him feel car sick, quite an achievement.
After a break Ranen comes back and warns me about the toilets; "you'll piss on your shoes in there mate", which seems odd. Ranen hops in the car for his go and I feel the call of nature. The bogs are up a small hill, standing at the urinal I can see straight out the open window at an utterly stunning view, huge tree clad hills, layered into the mist, mesmerizing. I'm lost in the view but snap out of it when I hear one of the elephants trumpeting. Then realize my lack of concentration has had the inevitable effect on my shoes. The window is quite high up, myself and Ranen are over six foot tall, apparently the locals who are shorter don't have the same problem here.
After filming we have a short journey through the winding mountain roads to the next hotel, this one is a traditional Japanese tourist job that gives "an authentic taste of traditional old Japanese", blah blah blah. Everyone else seems quite looking forward to it, but the idea of sleeping on the floor just reminds me of being a student.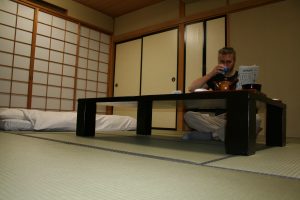 The hotel room has a bamboo mat carpet, a table and chair which both have no legs. There is a teapot with a side handle and paper sliding doors to the balcony. There is a remarkable sense of serenity though, and the view from the balcony is, again, stunning. The tea was nice too.
After a lovely breakfast of fish and eggs were off on the tour bus to a well known top secret location. Top Secret is the name of a company created by a drift hero known as Smokey Nagata, he got arrested on his last visit to the UK for drifting at nearly 200mph up the A1 for a well known car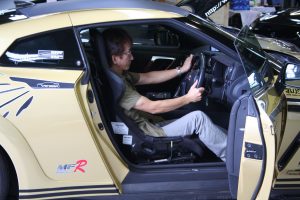 magazine. His workshop is remarkable, it's an old steel mill warehouse with a massive gantry crane, it's also odd for having a massive sign outside saying 'Top Secret'. Also outside is a normal sized domestic garage with exhaust extracts poking out under the door.
Inside the workshop we find Smokey, a really nice, quiet bloke who smiles constantly. He has a real passion for cars and has a few Japanese classics outside too, inside there are several cars in build, several are getting over 1000bhp tunes and the car Smokey is working is is heading for 2000bhp.
For this part of the filming we need Smokey to show us dyno tuning, and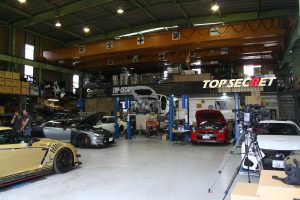 this is where the small domestic garage comes in, because in there is a 4 wheel drive rolling road dyno. A real dream garage. There is a GTR strapped down and ready to go, we fire it up, get it up to temperature and do a base line power curve, I'm not sure what the health and safety laws are over there and quite frankly I don't care as sitting at the small computer desk next to and engine chucking out over 900bhp is lovely. After a bit of tweaking on the ECU we got a touch more power and all the filming we needed, time to head of into the sunset, and back to Tokyo.
The last bit of filming needed was myself and Ranen hiring a kei-car, one of the very small cars that make perfect sense in a crowded city, but less sense for two six foot engineers with luggage, the idea was that it would make good telly, which is media speak for making us both look stupid in order to get a cheap laugh. This involved driving round back streets of Tokyo for half an hour with the tour bus in front and the Steve the camera bloke hanging out the back again. I've driven in many cities round the world, most of them offer an utterly miserable driving experience, the worst being Brussels, but Tokyo is different. Sure there is traffic, and lots of it, but it all flows and people are polite and thoughtful. It's possibly the nicest city to drive in.
As we finally board the plane back to good old England I'm struck by what a brilliant country Japan is, particularly for car nuts like me, there is such a thriving car culture, awesome race tracks, amazing cars and great events. Japan, we salute you.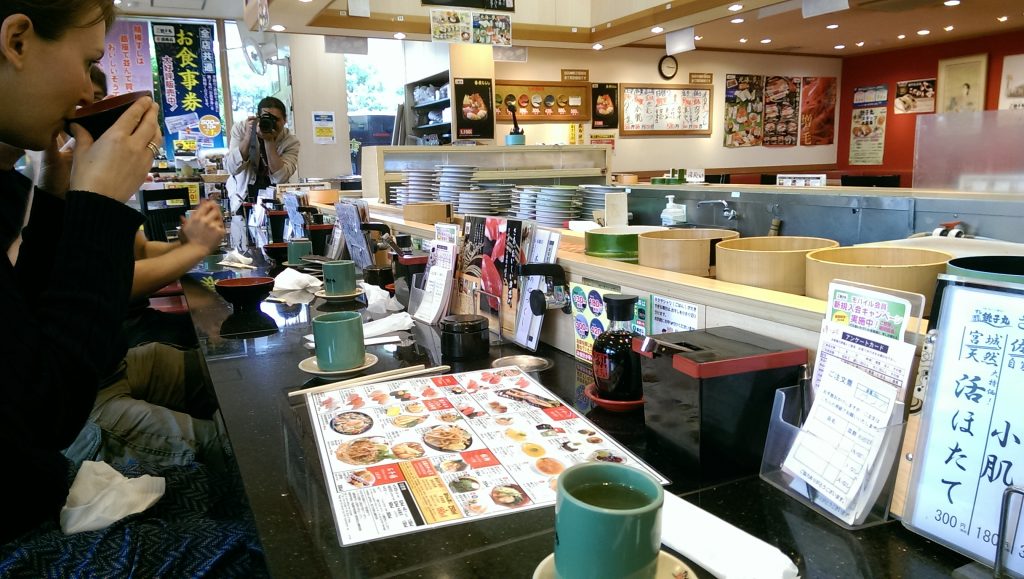 Ralph Hosier is a Chartered Engineer with over 25 years in the cutting edge of vehicle development and research. He has written several automotive books and many articles. He also teaches engineering at the UK forces motorsport charity Mission Motorsport.
For engineering enquiries, project advice or media requests please email on hello@rhel.co.uk and look at the company website www.rhel.co.uk for more details.