Guiding principals.

The universe is a fantastic place, and understanding even a small part of it is like peering through the curtains the night the circus comes to town.
Science brings us amazing facts and spectacular pictures, from a stunning nebula to the wonder of our own genes. But Engineering turns this knowledge into a tool, engineering gives us the power to shape our lives, to extend out individual powers and create new opportunities for achievement, entertainment and enlightenment.
Engineering touches nearly every part of our lives now, and I want to show people the beauty and ingenuity that surrounds them. By helping people understand, I hope to bring a greater appreciation and respect for what engineers do, and encourage a new generation to explore engineering as both an interest and a career.
On an individual level, the more we understand the technology we use, the better decisions we can make, even if it's just choosing the right tyres knowledge is key, and I hope to spread as much of it as I can.
Good engineering innovation is driven by passion, particularly where a single vision is driving the whole adventure, and I hope to convey some of that energy in my writing. There is drama and excitement in every engineering story, which is sadly lost all too often, these tales should be shared to entertain and more importantly to nurture the next wave of engineering talent.
Never before have we, as a species, faced so many life and death problems. There are tragic man made issues such as climate change, weapons of mass destruction, global food and water shortages. But there are even greater threats from nature such as asteroid impact and pandemic disease. Only engineering has the ability to solve these massive problems, if I can enthuse even a tiny fraction of my readers to explore engineering, or to simply show their support for it, then I will feel I have contributed something, however small, to the solution.
I have been mucking about with machinery since my first Meccano set as a child, the great thing about that stuff is it doesn't normally melt when you set fire to things, ahem, unlike Lego, I discovered..After studying engineering at Exeter Collage (where I would lecture 20 years later!) I progressed to Warwick Uni where I studied 'controlling things with computers and doing hard maths'. This lead swiftly to having to get a proper job, as luck would have it Ford needed some fresh minds so off I went to Dunton. After six years, and becoming a chartered engineer, I set out on my own offering contract engineering to the world of automotive dreams.
I have had the privelege of working all over Europe with a variety of companies including Bentley, Jaguar, Land Rover, and a range of small manufacturers and race teams (many of which no one has heard of!).
In recent years I have started writing technical articles for magazines such as Evo, Practical Performance Car, Practical Classics, Full Throttle and Classics Monthly as well as the occasional TV appearance.
I love exploring everything the world has to offer, the fabulous beauty and intricacies of nature, the stunning majesty and grandeur of the universe, and the fascinating range of chocolates available from the local sweety shop.
I have led a charmed life, sure there has been extremes of strife and pain, but the highs far outweigh the lows. I get paid for arsing about in very fast cars, I get to write about them and amazingly get paid for this too. I have lived many of my dreams, worked all over the world, raced cars built by my own hand (and hardly ever crashed really badly), seen things and done stuff. But nothing compares to the love of Diana and my son Peter, beyond my greatest hopes.
I am a chartered engineer, a member of the Institute of the Motor Industry (IMI), and of the Institute of Engineering and Technology (IET) and I am a member of the Guild of Motoring Writers.
A pleasing fact is that there are now more letters after my name than there are in it 😉
R.Hosier B.Eng(Hons) C.Eng MIET MIMI MGoMW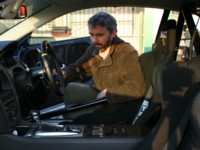 Qualifications
Member of the Guild of Motoring Writers
Member of the Institute of the Motor Industry
Member of the Institute of Engineering and Technology
Chartered member of the Engineering Council
B.Eng degree in engineering
Ordinary National Diploma in Engineering